A COLLECTION OF FUN RIDES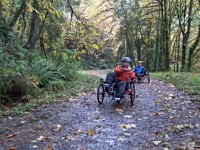 2:30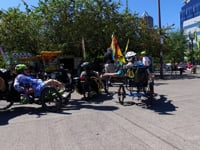 1:59
We just have a lot of fun on trikes.  And, we're not gonna stop.  
Portland's Sunday Parkways with music by the incomparable Coralie Clément
Up Mt. Tabor with friends and then dinner -again, with Coralie Clément 
Out of town friends -"The Trike Guys" converge on PDX for some fun.  Alma Negra does a great cover of the Johnny Nash classic
The original "Trike Guys" video ride along the Klickitat River featuring the RIgbees cover of Rosalita
More Trike Guys slog through the mud on Forest Park's Saltzman Road.  Music -obviously-  Raindrops Keep Falling on my Head
Taking customers and friends through Ladds Addition, over the Tilikum Crossing and up-and-back the Portland riverfront. Doug Linse cover of Low Rider made…uh… perfect sense!